ALERT! Deerfield DBC temporary move!
The Patty Turner Senior Center is redecorating.

The Deerfield Bridge Club (run by Elaine) will meet on Wednesday October 29, and Wednesday November 5th at:

North Shore Congregation Israel
1285 Sheridan Road
Glencoe, IL.
Chicago Bridge Center News!
As of October 29, the Chicago Bridge Center will cease operations.
A new club, Chicago Duplicate Bridge, will open in November. Our temporary location is 500 N. LaSalle, Chicago.
We will continue the current game schedule:
Open Games:
Sunday at 1 PM,
Monday through Thursday at 12:15 PM
Thursday at 7 PM
Intermediate/Newcomer Game:
ELECTRONIC SCORING
PREDUPLICATED HANDS + HAND RECORDS FOR ALL PAIRS GAMES
GUARANTEED PARTNERS FOR ALL GAMES

Come join us for our big opening day celebration on Sunday, November 2 at 1:00 PM!
Psssst! Have you heard the news???
Starting Saturday November 1st, Daryl Novick and the Ace of Clubs will be opening a new Saturday game in Glenview!
Come join us for a fun day of bridge at 2050 N Claire Ct., Glenview, Illinois
inside the Midwest Palliative and Care Center's administration building (It's gorgeous!)
There is a LARGE parking lot right across the street from the building.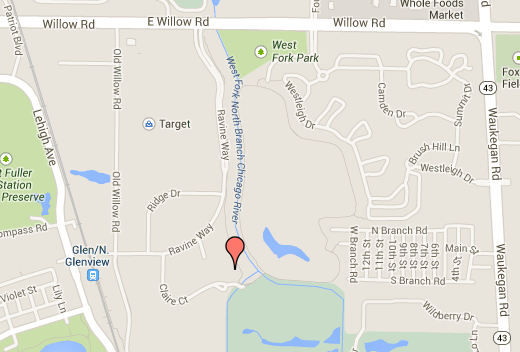 The first game will be Saturday November 1st

*** Game time will be 11am SHARP (as in don't be late!) ***

Bagels and cream cheese and fresh fruit and snacks will be served.
computerized scoring * hand records * great lighting
Many people have serious, and even life threatening, allergic reactions to scented lotions, perfumes, colognes and other scents. The CCBA and club owners seek your cooperation to avoid these situations by coming to all bridge events "scent-free."

Please help us by abiding to our new policy. Thank you for your consideration.